Thank You, Start Patching for July 2021!
Wow, what a show. If you missed or want to watch it again we have created a playlist on our Colorado Modular Synth Society YouTube channel.
The 2020 Performers!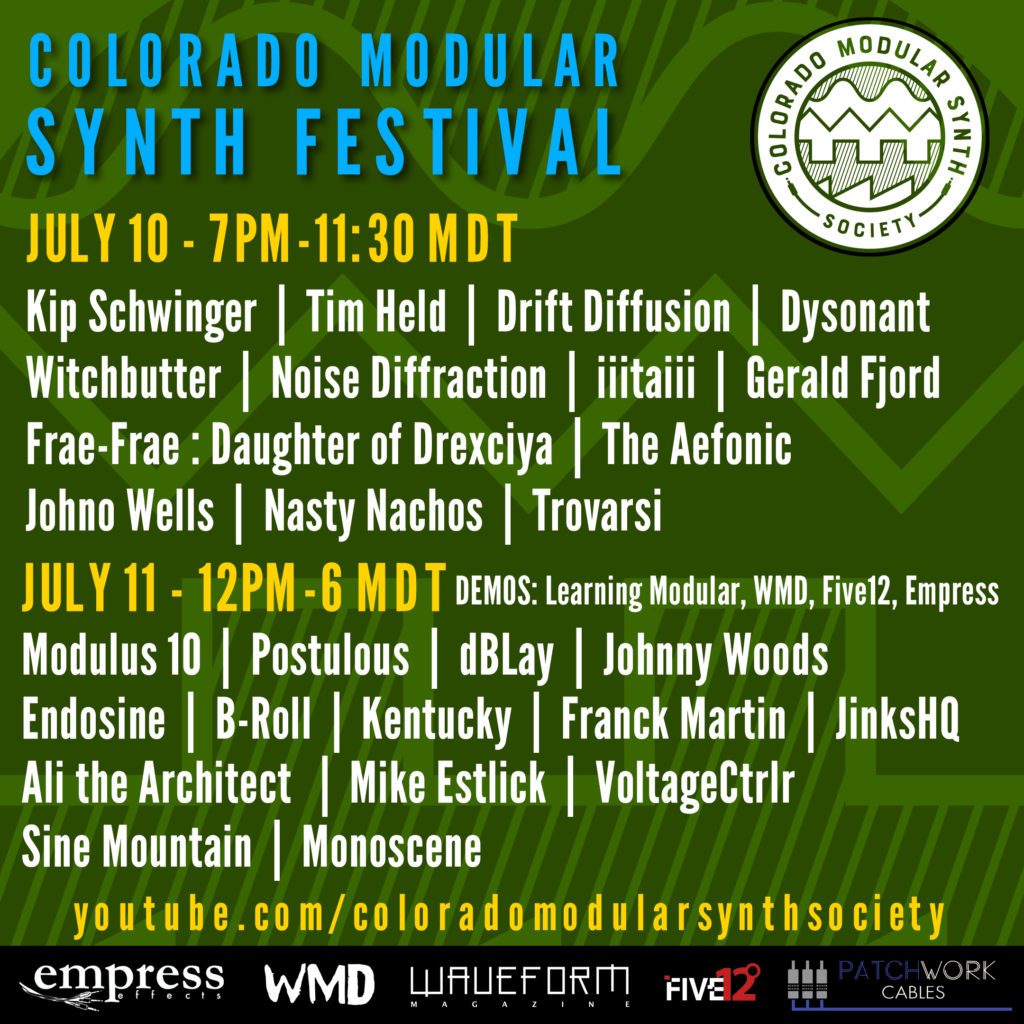 Thank you for entering the Giveaway!
Brought to you with the support of our sponsors!
Modular Synthesizers Celebrated
The Colorado Modular Synth Society's festival this year has moved online. We hope next year we can all meet again but we are going to make the best of the situation by having a two-day event with artists from around the country joining!
Join our mailing list for more updates about CMSS and CSMF.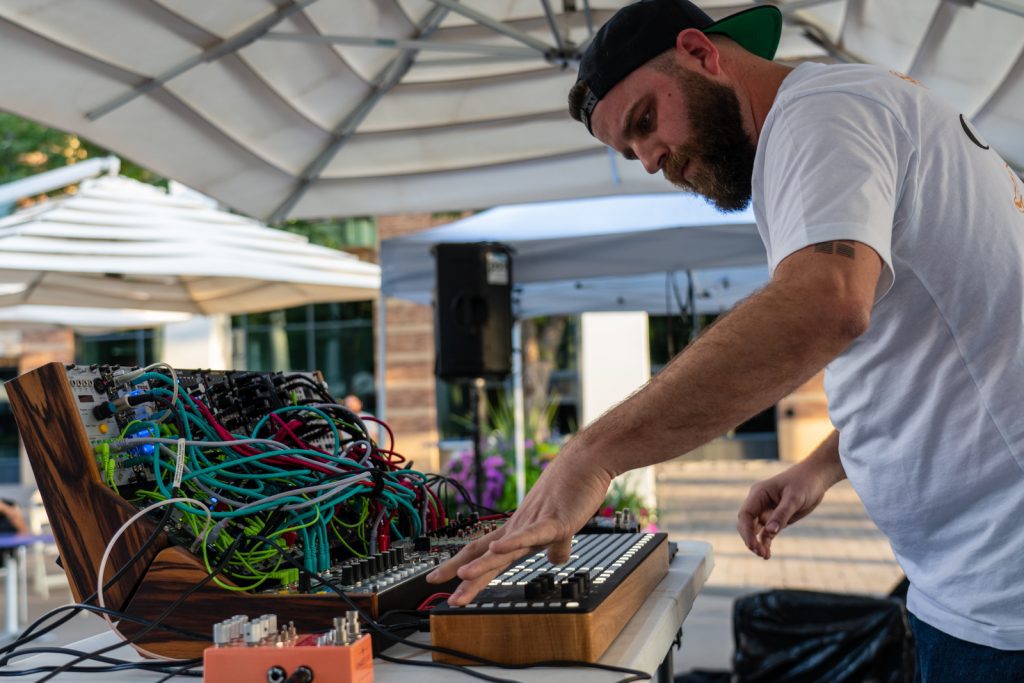 The Colorado Modular Synth Festival (CMSF) is made up of live music, interactive activities, and educational talks. This event is designed for kids and adults interested in synthesizers, electronic music, and electronics.
More about the past festival
In 2019, we had over 20 performers and speakers. Artists played with a modular only or hybrid synth setups. Talks focused on sound design, composition, and basic synthesis within the modular synth ecosystem.
Korg, WMDevices, BlipBlox, Starling Space, Poetic Vision Cables and Colorado Modular Synth Society members provided modules and gear to create a family-friendly interactive area with synthesizers everyone could play and experiment!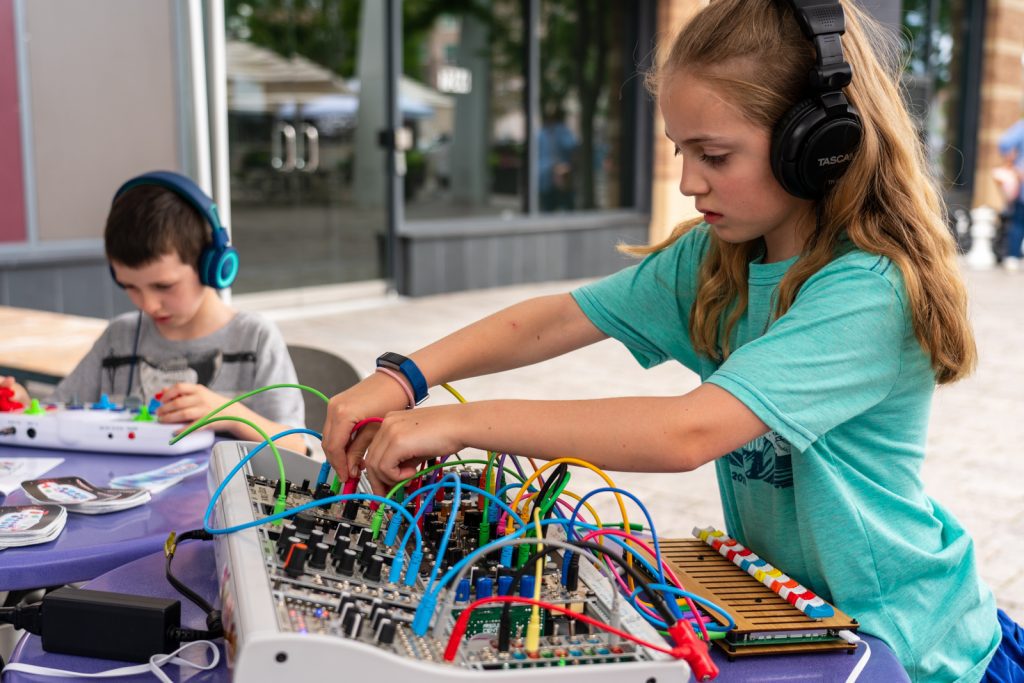 The 2019 CMSF Performing Artists
| | |
| --- | --- |
| Nasty Nachos – 2:00 PM | Zack Hagan – 6:30 PM |
| Drift Diffusion – 2:30PM | The Aefonic – 7:00 PM |
| Gentleman Bastard – 3:00 PM | Gerald Fjord – 7:30 PM |
| Vino Malo – 3:30 PM | Witch Butter – 8:00 PM* |
| Entrancer – 4:00 PM | Kip Schwinger – 8:30 PM* |
| Cold Future – 4:30 PM | Marconian Influence – 9:00 PM* |
| Lofi Freq – 5:00 PM | Other Types – 9:30 PM* |
| Mike Thomas – 5:30 PM | LoveCosmicLove – 10:00 PM* |
| Sine Mountain – 6:00 PM | Col Arete – 3:00 PM** |
*Crazy Mountain Brewery Belmar **Colorado Media School
2019 Free Talks at Colorado Media School
Talks are held at the Colorado Media School.
Theremin, Musique Concrete, and Live Sampling, Oh My is at 2:30.
Right Brain Sound Design is at 3:15.
Sound Synthesis 101 is at 4:00.
About CMSS
CMSS is made up of over a hundred members. We build, play and share knowledge about the ever-growing and expanding world of modular synthesis. Events are free and the environment is friendly!
If you would like to help with a future event or learn more you can reach David Soto at Socialsoto@gmail.com